0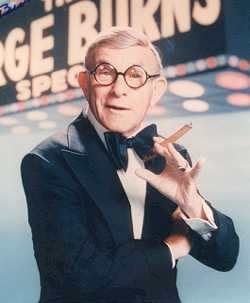 Happy Birthday George Burns! 
With cigar in hand, seemingly always accompanied by a young and beautiful woman, George Burns, made millions of us laugh with his quick wit and easy style.Born Nathan Birnbaum on this day in

1896

in New York City, Burns' show biz career got started with his straight man act for zany Gracie Allen back in 1922.On January 7, 1926 the two were wed and the Burns and Allen team made history from vaudeville to radio (1932) to films and then, TV beginning in 1950. Several generations used Mr. Burns' trademark close, "Say goodnight, Gracie," whenever someone made a ditzy comment. Hollywood cast the duo with their inspired lunacy in a slew of films in the '30s including: International House, We're Not Dressing, A Damsel in Distress, College Swing and Honolulu.

Three decades passed before George Burns made another movie. This one was a winner. In fact, The Sunshine Boys won George Burns his first Oscar for Best Supporting Actor (1975). Other films followed in rapid succession: Oh, God! [1977], Sgt. Pepper's Lonely Hearts Club Band [1978], Going in Style [1979], Oh, God! Book 2 [1980], Two of a Kind [1982], Oh, God! You Devil [1984] and Radioland Murders [1994].

At the age of 93, George Burns was making hits with the song, I Wish I Was Eighteen Again from his 1988 film, 18 Again!. And he was playing Vegas to rave revues.

The 20th century's premier entertainer, George Burns, continued to show all of us how to live life to its fullest, still singing and story-telling to his 100th birthday. died on March 9, 1996.

Source:  (http://www.440.com/twtd/today.html)

To find more resources in our library about George Burns, click here.  Enjoy!